There is a variety of different reasons why someone might choose to move to Florida. Your main draw might be the pleasant climate all year round or the relaxed way of living most Florida communities have in common. For others, it will be its vibrant economy and the lucrative job market. In recent years, many companies have actually moved their headquarters or production into the Sunshine State. No matter what the reason for your move may be, if you are set on buying a place in Florida, you will need to think about where exactly you should move. Most people will be drawn to one of its major metropolitan areas like Orlando or Miami. However, here we would like to consider the benefits of buying a suburban home in Florida. Whether you are moving on your own or with your whole family, the Florida suburbs are sure to feel just like home.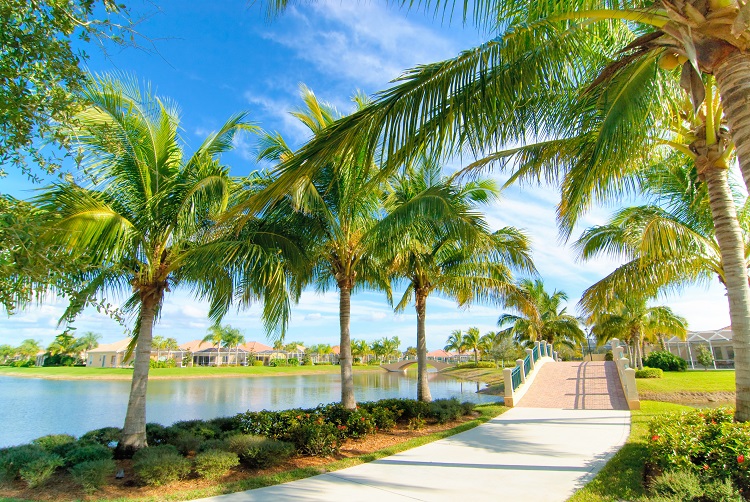 Why opt for the suburbs?
Depending on where you are coming from and what you are used to, it can be quite difficult for some people to make a choice. Is it better to live in a big city or live in the suburbs? Obviously, this decision also depends on your needs and financial resources. You also have to consider what is important for your quality of life. While cities can hold many drawbacks once you are actually living there, the suburbs are more likely to fit the bill for most people nowadays. Being in the vicinity of a major metropolis will provide you with all of the perks that come with city life. At the same time, it will keep you clear of the daily chaos.
The benefits of buying a suburban home in Florida
1. More space for less money
Living in Florida is already more affordable than most other states because of the lack of a state income tax. So not only do you get more money for your work, but you also get to spend less of it on housing. This is particularly true of the suburbs. There, you will be able to afford a larger place for the fraction of the money you would spend elsewhere.
If you have been dreaming of a big yard for Sunday barbecues, the Florida suburbs make those dreams a reality. You won't even have to worry about the move itself. Affordable companies like City Movers will take care of all those pesky details for you, leaving you to simply enjoy your new neighborhood.
2. The calm
If you have spent your whole life living in the city, or you know you will continue to work in one, the peaceful suburbs will provide a welcome change of pace. Life is much calmer and slower outside of big cities. This is one of the crucial benefits of buying a suburban home in Florida. Even if you have to commute to Orlando or Miami every day, you will still be able to unwind in your spacious home. You will surely not miss the noise and the pollution of a big city.
3. More conducive to a family life
If you are moving with your family and are still raising children, one of the benefits of buying a suburban home in Florida will definitely be the lower crime rates than those of cities. For the most part, you can put your safety concerns to rest if you live in the suburbs. Not only is it safer in general, but there is also more space. Your young ones will be able to have fun and feel free in an environment that you have control over. Playing in a city park and playing in a suburban cul-de-sac are two quite different things. Furthermore, the additional space will allow for comfortable living for all of your family members.
Organizing the move
Once you've made your decision about the suburbs and have researched all of the benefits of buying a suburban home in the Sunshine State, you can start planning your move. If you are moving within Florida, you may feel tempted to deal with the entire move yourself. This may seem like it is saving you money, but in reality, you will still have to spend some on your move, in addition to the time and effort you will have to put in as well. Why go through the hassle when transporting household goods anywhere in FL is someone's actual job?
This is particularly true if you are moving from out of state. There is so much to think about during a long-distance move. You really do not want to add packing and transport to your plate. Moving to suburban Florida should present a new chapter punctuated by peace and calm. Stressing about the minutiae of moving will do nothing to help usher in this new era of your life.
What are your choices?
According to recent research, the best place to buy a home in Florida is not in Orlando or Palm Beach. It is actually in the small town of The Crossings, about 20 miles south of Miami. Another website made a list of the 2019 best suburbs to buy a house in Florida. It highlighted places such as Connerton, St. Augustine South and Lakeland Highlands. These are some of Florida's hottest real estate markets. All of these suburban areas boast a high quality of public schools, affordable housing and populations that rarely exceed 10,000 people. Before you make your decision, take a look online. You'll be able to see which of these places offers most of the amenities you absolutely cannot live without. Most of these are actually quite close to Miami, Tampa or Orlando. So, even if there is something that you cannot get within these small towns, it will still never be too far away.
Written by: Lisa Robert with US Moving Experts